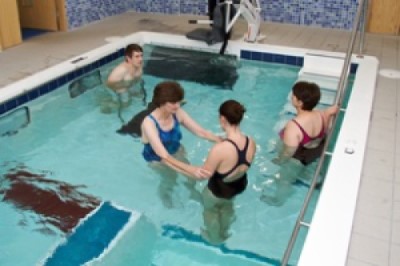 Hydrotherapy entails whole body exercises that take place in our state of the art 34°C warm water pool. The warm temperature of the water allows your muscles to relax and eases the pain and stiffness, making it easier to exercise. Hydrotherapy can relieve painful joints, increase the range of movement in your joints and improve your muscle strength. At Kiltipper Woods our hydrotherapy pool contains an underwater treadmill, resistance jets, and massage wand.
The power resistance jets provide resistance for a range of motion exercises, improving the patient's cardiovascular stamina. The wand offers patients the ability to massage and loosen muscles. The pool is easily accessible to suit all patients and can be accessed by patients in wheelchairs. It is also important to note that you do not have to be able to swim to benefit from hydrotherapy. All our hydrotherapy sessions are conducted by chartered physiotherapists who are highly trained and experienced in hydrotherapy. Hydrotherapy sessions can take place in a group setting or on a one to one basis.
At Kiltipper Woods we use a Swimex 1000-T hydrotherapy pool that is fully equipped with laminar water current technology which your therapist uses to optimise the intensity of your workout. 
Hydrotherapy is the safest and most progressive form of rehabilitation because it takes place in a gravity neutral environment, thus decreasing impact and trauma on weight bearing joints during rehabilitation. The simulated weightlessness allows treatment to begin earlier and more safely, thereby accelerating the healing process. Our hydrotherapy programmes are conducted by chartered physiotherapists, who are highly trained in hydrotherapy. All programmes are specifically tailored to the needs of each individual patient. Our therapy is goal-orientated so the patient can achieve results in each session. This approach helps to ensure that the best possible rehabilitation outcomes are attained.