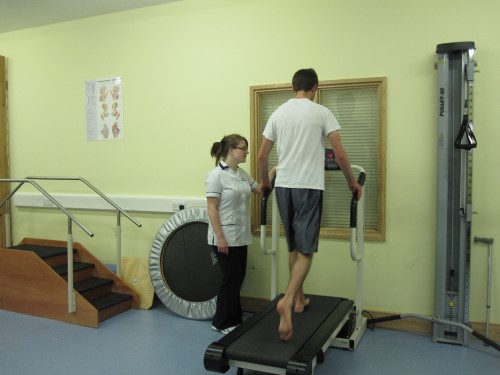 Kiltipper Woods Physiotherapy specialises in muscoskeletal rehabilitation and neurological rehabilitation on both an inpatient and outpatient basis. Our physiotherapists provide high quality physiotherapy and occupational therapy rehabilitation through a professional and personal service, developing individualised treatment programmes tailored to the patient's specific needs. We aim to maximise your body's potential through assessment, treatments and rehabilitation.
Physical rehabilitation is a specialty that involves the process of restoring function for a person who has been disabled as a result of a disease, disorder or injury. Following a period of incapacitation, it is well documented that specialised rehabilitation plays a crucial role in getting you back on your feet again. Whether you have had a plaster of Paris removed, recently undergone surgery, are post-stroke, suffer from back pain or following a period of hospitalisation/immobilisation, our rehabilitation team of chartered physiotherapists will be on hand to assist you in returning to your maximum physical potential. We provide a state of the art medical gymnasium, which contains the full spectrum of exercise equipment for strengthening, flexibility, balance and coordination.
OUTPATIENT PHYSIOTHERAPY
At Kiltipper Woods we provide physiotherapy on an outpatient basis in addition to our inpatient physiotherapy. Our highly skilled chartered physiotherapists will undertake a detailed assessment of your symptoms and, following diagnosis, plan a treatment programme which could include manual therapy, exercise and strengthening programmes (core stability), and electrotherapy (ultrasound, laser, muscle stimulation, and biofeedback). In addition to standard physiotherapy treatments, Kiltipper Woods offers dry needling.
Dry needling is the insertion of sterile single use acupuncture needles directly into myofascial trigger points. Myofascial trigger points are essentially multiple knots within a muscle fibre which can cause and contribute to pain within the body. The needles are inserted into the skin and directly into the myofascial trigger points. Inserting needles into trigger points causes bio-mechanical changes which release the trigger point and alleviate pain. Very often upon insertion of the needles, a "local twitch response" is elicited. This is a desirable effect, which signifies the first step to breaking the pain cycle and releasing tight trigger points within muscles. Dry needling is strictly based upon Western medicine principles of treating myofascial trigger points, which are different to traditional acupuncture points. Dry needling can be used to treat a variety of conditions including back and neck pain, shoulder and arm pain, headaches, buttock and leg pain (including sciatic pain), calf tightness or cramps.